Speedpaint: Cloudburst Blue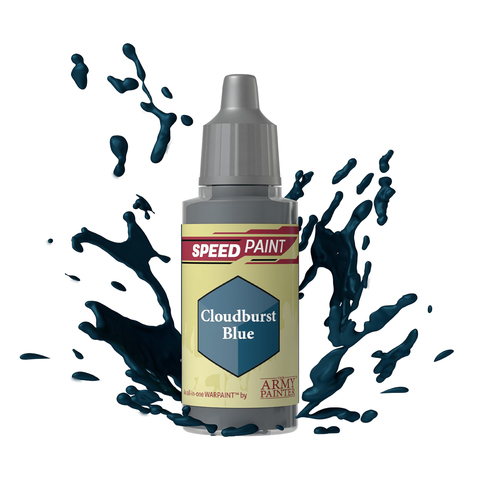 | | |
| --- | --- |
| Name | Speedpaint: Cloudburst Blue |
| Artikelnummer | TAPWP2022 |
| EAN / ISBN | 5713799202283 |
| Mehrwertsteuersatz | 19% |
| Sprache | ohne |
| Erscheinungstermin | 10.06.2023 |
| Erstverkaufstag | 10.06.2023 |
Speedpaint is truly a one-coat painting solution. Simply apply one rich coat of Speedpaint directly over a primed miniature and you are done! The Speedpaint will leave that part of the model with both intense shading, vibrant colour, and a highlight effect in one application.
It flows perfectly over your miniatures and creates an unparalleled painting solution to help you get more time for gaming.
SPEEDPAINT:
One-coat painting solution
Consistent flow across colours
Perfect contrast
Intense shading and highlighting effect
23 unique colours
18ml spill-free dropper bottles
Pre-loaded with 2 steel Mixing Balls Speedpaint Medium comes in our specially designed spill-free dropper bottle and with two steel Mixing Balls already preloaded using it couldnt be easier.
SPEEDPAINT MEDIUM:
Thin your own Speedpaint
One-coat painting solution
Create shading and highlighting effect
18ml spill-free dropper bottle
Pre-loaded with 2 steel Mixing Balls
Kunden, die diesen Artikel gekauft haben, kauften auch folgendes: