My Very First Set. Little Berry.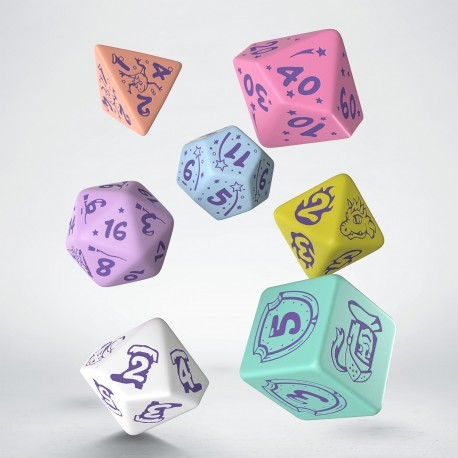 | | |
| --- | --- |
| Name | My Very First Set. Little Berry. |
| Artikelnummer | QWSSMVF02 |
| EAN / ISBN | 5907699496228 |
| Mehrwertsteuersatz | 19% |
| Sprache | mehrsprachig |
| Erscheinungstermin | |
| Erstverkaufstag | |
PRE-ORDER
All pre-orders will be sent on June 25th. To every pre-order containing at least one My Very First Set a gift of coloring backpack with crayons will be added. You can color it yourself!
Adventures of the Little Berry! What kind? Any kind you want! Here's a way to show the "small people" the big world full of adventures! My Very First Set is an adorable, multi-colored set of dice: each polyhedron has a different background color and a different fairytale character depiction. The painting is violet, mesmerizing the young players and letting you tell the story of a Little Berry...
This set consists of 7 polyhedrons: D4, D6, D8, D10, D12, D20, and D00 (percentile).
This dice set has a different background color for each die: pastel peach for D4, mint for D6, yellow for D8, white for D10, pastel blue for D12, pastel violet for D20, and powder pink for D00.
Within the whole set different characters depict the highest faces: a Unicorn, a Fairy, a Knight, a Dragon, a Witch, a Cat in Boots, and a Frog.
The painting color for all the dice in the set is violet.
Kunden, die diesen Artikel gekauft haben, kauften auch folgendes: