GameMaster Terrain Primer Display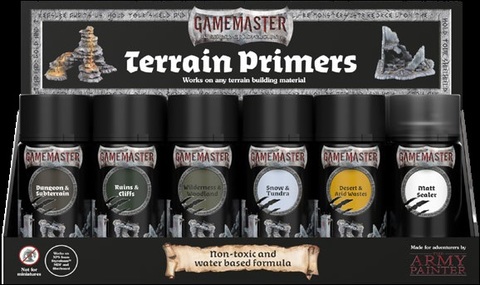 | | |
| --- | --- |
| Name | GameMaster Terrain Primer Display |
| Artikelnummer | TAPGM3000 |
| EAN / ISBN | 5713799300095 |
| Mehrwertsteuersatz | 19% |
| Sprache | ohne |
| Erscheinungstermin | 15.05.2021 |
| Erstverkaufstag | 15.05.2021 |
GAMEMASTER: Terrain Sprays is the ultimate foundation when building terrain and scenery. The high quality waterbased sealer and primers has a matt finish, is non-toxic, odorless, hence safe to use, and will not corrode your building materials – even if you are using XPS foam, polystyrene or MDF sheets. Apply mutiple thin coats and let it dry for minimum 1 hour before continuing work on your terrain.
The primers covers a solid colour range, which will satisfy most of your needs when creating hobby terrain. With this set, you are sure to experience an easy and perfect coverage with a flat matt finish, while still preserving all the details. The GAMEMASTER Terrain Sprays makes it possible to build any kind of RPG or wargaming terrain faster and easier - making it a great value for your money while also saving time!
• Matt finish
• Non-toxic
• Water-based
• For both in- and outdoor use
• Odorless
• Not suited for miniatures
SUITABLE FOR MATERIALS
XPS Foam, styrofoam, MDF and fiberboard.
BOX CONTENT
• 5x3 Terrain Primer
• 3x Matt Terrain Sealer
Kunden, die diesen Artikel gekauft haben, kauften auch folgendes: