INSIDE³ Legend - The Crypts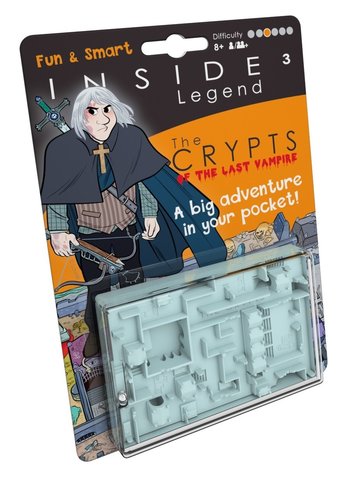 | | |
| --- | --- |
| Name | INSIDE³ Legend - The Crypts |
| article number | ISD261134 |
| EAN / ISBN | 3760032261134 |
| VAT | 19% |
| Language | mehrsprachig |
| Release date | |
| On-sale date | |
prices are exclusively displayed for registered merchants
please log in
From 8 years old - Can be played alone or with friends - Dim : 7 x 10,5 x 2cm - Made In France
"The CRYPTS of the last Vampire "it's a hellish adventure in a cemetery lost in the foothills of the Karpathian Mountains. You'll have to pass through three crypts before you can access, perhaps, the final crypt where the last of the Vampires hid.
To succeed in your hunt you will need to the addresss, the reflection and a lot of perseverance. You'll have to be able to drive your wooden stake through the vampire's heart, but... especially coming out of the sinister cemetery.
For the outward journey will be simpler than the return, traps and pitfalls await you on the path that will perhaps bring you back to life and Glory...
Address (1 of 6) :
you're not mega nimble, The CRYPTS might just be right for you even if it takes:
- through three dark crypts before reaching the vampire's lair,
- avoid traps that will make you retrace your steps and drive you crazy,
- sneak up the right stairs through four descents into the darkness,
- to avoid dead ends.
Reflection (4 of 6) :
4 crypts buried in the basement of the cemetery. 4 opportunities to lose you.
Fortunately, plans are engraved before each crypt to help you reach the light.
They will also be very useful to you to come out, victorious and liberated, of this forever cursed cemetery.
It's up to you too to discover the shortcuts and the secret passageway...
All Legends are played in SOLO or MORE than one. :
– Solo KILLER : try to make the outward journey, the return journey, in less than 2 minutes and faster and faster to gain grades and become "KILLER".
– To several Each one draws his Legend to launch the Battle. May the fastest man win!
Stickers (supplied with each Legend) :
Solo or in Battles, improve your skills to gain ranks and stick the proof of your exploits on the back of your Legend!
clients who have bought this article bought also this: