INSIDE³ Legend - The Ninja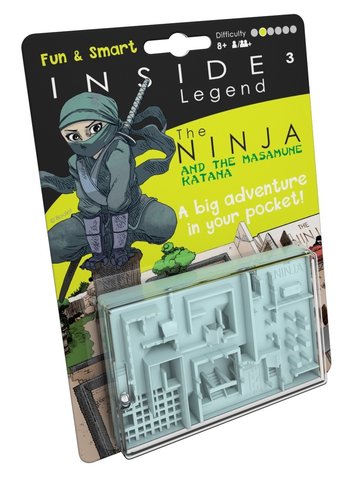 | | |
| --- | --- |
| Name | INSIDE³ Legend - The Ninja |
| Artikelnummer | ISD261127 |
| EAN / ISBN | 3760032261127 |
| Mehrwertsteuersatz | 19% |
| Sprache | mehrsprachig |
| Erscheinungstermin | |
| Erstverkaufstag | |
From 8 years old - Can be played alone or with friends - Dim : 7 x 10,5 x 2cm - Made In France
"The NINJA and the Masamune Katana "it's a perilous adventure into the world of Ninjas. Your mission is to steal a very rare and precious Katana forged by the famous Master Masamune, locked up in the Dojo of the palace of the terrible Lord Komotochi.
To make your package a success you will need to the addresss, the reflection and a lot of perseverance. You'll have to manage to reach the famous sword, but... especially to come out of the palace.
For the outward journey will be easier than the return, traps and pitfalls await you on the path that may lead you back to Freedom and Wealth...
Address (3 of 6) :
you will be faced with passages that will require skill and precision:
- pass over a wooden trellis without falling over,
- avoid traps that will make you retrace your steps and drive you crazy,
- cross the garden (not so) zen (that)
- leaving the Dojo without ending up in the basement,
- take the stairs out of the room with the multiple doors...
Reflection (2 of 6) :
to reach the Dojo you will have to go down one last staircase that will take you into the labyrinthine basement of the Palace. Luckily a plan is engraved just before the stairs. It will allow you to reach the stairs that will lead you to the Dojo. It will also be very useful for you to get out of those basements.
It's up to you to discover the shortcuts and the two secret passages...
All Legends are played in SOLO or MORE than one. :
– Solo MASTER : try to make the outward journey, the return journey, in less than 2 minutes and faster and faster to gain grades and become a "MASTER".
– To several Each one draws his Legend to launch the Battle. May the fastest man win!
Stickers (supplied with each Legend) :
Solo or in Battles, improve your skills to gain ranks and stick the proof of your exploits on the back of your Legend!
Kunden, die diesen Artikel gekauft haben, kauften auch folgendes: