INSIDE³ Legend - The Castle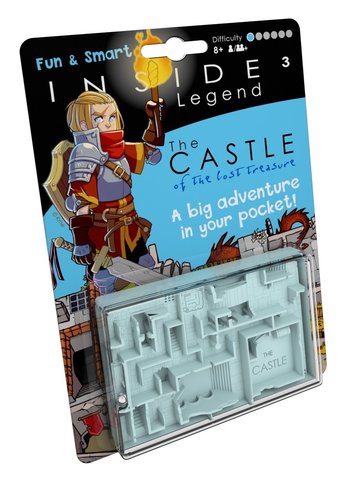 | | |
| --- | --- |
| Name | INSIDE³ Legend - The Castle |
| Artikelnummer | ISD261110 |
| EAN / ISBN | 3760032261110 |
| Mehrwertsteuersatz | 19% |
| Sprache | mehrsprachig |
| Erscheinungstermin | |
| Erstverkaufstag | |
From 8 years old - Can be played alone or with friends - Dim : 7 x 10,5 x 2cm - Made In France
With "The CASTLE of the lost treasure " go in search of one of the treasures of the Templars, in the ruins of a ruined castle.
To complete your quest you will need to the addresss, the reflection and a lot of perseverance. You'll have to manage to reach the lost treasure, but... especially to come out of the castle.
For the outward journey will be easier than the return, traps and pitfalls await you on the path that may lead you back to freedom and Glory...
Address (2 out of 6):
you will have to take passages that will require finesse and precision:
- take a wooden bridge,
- avoid traps that will make you retrace your steps and drive you crazy,
- sneak in the right way, among 3 possible ways,
- take the stairs in the middle of the Hall of Columns...
Reflection (1 of 6) :
to reach the treasure room you will have to pass one last test, the "Forbidden Room". A room in the basement that you'll have to walk through in the dark, blind.
Luckily you'll find a map of this room just before the bridge. It will take you to the staircase that will lead you to the Treasury. It will also be very useful for you to get out of this dark and dangerous room.
It's up to you too to discover the shortcuts and the secret passageway...
All Legends are played in SOLO or MORE than one. :
– Solo KING : try to make the round trip, the outward journey and the return journey, in less than 2 minutes and faster and faster to gain grades and become "KING".
– To several Each one draws his Legend to launch the Battle. May the fastest man win!
Stickers (supplied with each Legend) :
Solo or in Battles, improve your skills to gain ranks and stick the proof of your exploits on the back of your Legend!
Kunden, die diesen Artikel gekauft haben, kauften auch folgendes: