Treasure Pack & Flugwug the Filcher – Riot Quest Treasure Chest Expansion (metal/resin)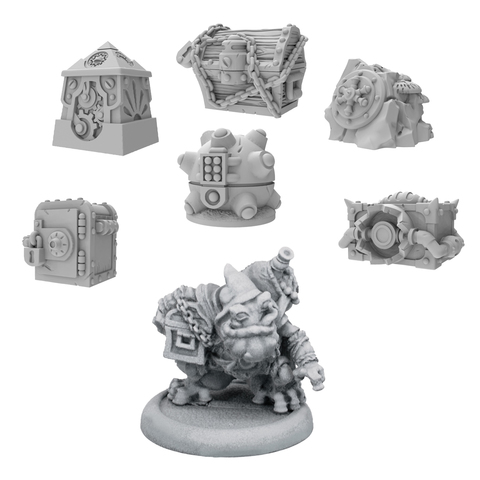 | | |
| --- | --- |
| Name | Treasure Pack & Flugwug the Filcher – Riot Quest Treasure Chest Expansion (metal/resin) |
| Artikelnummer | PIP63016 |
| EAN / ISBN | 875582025365 |
| Mehrwertsteuersatz | 19% |
| Sprache | englisch |
| Erscheinungstermin | Dezember 2019 |
| Erstverkaufstag | |
Pump up your plunder with fully realized, three-dimensional, solid matter renditions of your Riot Quest treasure chests! Then, savor the salt of your opponent's tears as you shamelessly pillage these containers of coinage with Flugwug the Filcher's ranged loot licker.
TRADE POINTS: The Treasure Chest expansion includes a new Treasure deck (6 cards), a
Flugwug the Filcher miniature and Hero stat card, a new Riot Gear card, and six different Treasure Chest models.
The Treasure Chest models are the perfect way to add a bit of bling to your Riot Quest Arena. Each model replaces one of the six Treasure Chest tokens found in the Riot Quest starter box and is placed on Treasure Beacons as that Chest type spawns into play.
The Flugwug model provides players one of the most mobile Rogue class Heroes in all of Riot Quest, capable of leaping around the Arena and looting Treasure Chests up to 3 hexes away with his weird, sticky tongue.
When played in WARMACHINE & HORDES, Flugwug is a Mercenary Minion Croak Solo that will work for Cryx, Circle, Legion, Skorne, and Trollbloods.
Kunden, die diesen Artikel gekauft haben, kauften auch folgendes: