The Army Painter Tool & Accessory Racking System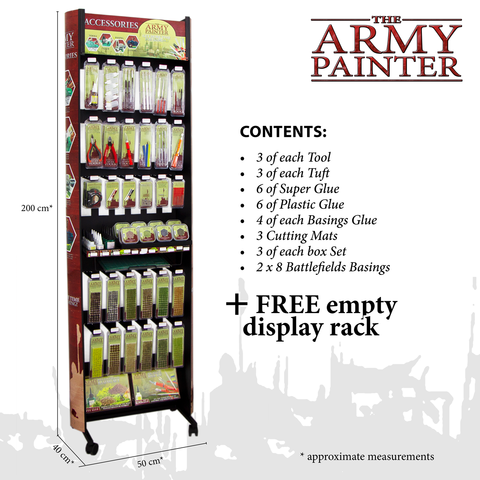 | | |
| --- | --- |
| Name | The Army Painter Tool & Accessory Racking System |
| Artikelnummer | TAPWP8906 |
| EAN / ISBN | |
| Mehrwertsteuersatz | 19% |
| Sprache | ohne |
| Erscheinungstermin | März 2019 |
| Erstverkaufstag | |
Everything you need in one place!
We've spent over a year perfecting the best Retail/Hobby solution for our retailers and we're now ready to begin production for WORLDWIDE distribution in February 2019. This new rack is the perfect addition to the already existing Paint & Technique rack, that our retailers and their customers love!
Every wargamer needs tools, glue & accessories to prepare and assemble their models before painting. The Army Painter is extremely proud to debut the complete TOOLS & ACCESSORY racking system. We have spent months researching and designing the perfect range that combines innovative, new products and the old "must-haves" - it's as good as it gets!
Innovation & Design
Hundreds of hours have been spent designing "the perfect rack," so it complimented the Painting Technique Rack already out in Retail. The TOOL & ACCESSORY rack is user friendly, easy to manage, and saves precious retail space in comparison to the high value of the products.
Everything in one place!
Smart details on the rack make it user-friendly for both the customer and retailer. The range has been upgraded to be – a complete TOOL & ACCESSORY rack – featuring many new and innovative products that previously have not been available to Retail.
THE NEW RACK OFFERS:
- 3 of each Tool
- 3 of each Tuft
- 6 of Super Glue
- 6 of Plastic Glue
- 4 of each Basings Glue
- 3 Cutting Mats
- 3 of each box Set
- 2 x 8 Battlefields Basings
Kunden, die diesen Artikel gekauft haben, kauften auch folgendes: