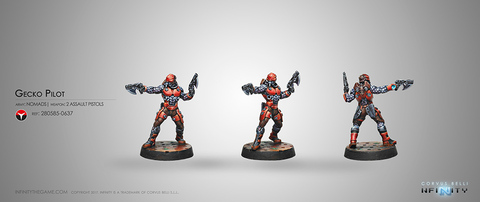 | | |
| --- | --- |
| Name | Gecko Pilot |
| Artikelnummer | INF280585 |
| EAN / ISBN | 2805850006374 |
| Mehrwertsteuersatz | 19% |
| Sprache | deutsch |
| Erscheinungstermin | Mai 2017 |
| Erstverkaufstag | 18.05.2017 |
"Don't worry, boys. Only something really big and well armed could stop us. And there is nothing big that can move through thesecorridors."
Last transmission of the Sergeant Markus Hölderlin, PanOceanian boarding force SV-03. Raid on the Nomad Extraction Platform Nochtli. First Phase of the NeoColonial Wars.
"Overwhelming and excessive, that's our squadron motto. If they wanted to round up prisoners and leave the facilities unharmed, why did they send us?
Wing Sergeant Héctor Velasco, Gecko Squadron. Defense of the Nomad Extraction Platform Nochtli record. First Phase of the NeoColonial Wars.
Geckos were the lightest and smallest T.A.G. model in the Reptile series, as well as the first to become obsolete. Conceived as a reconnaissance and early contact T.A.G., the limited speed capacities of its tiny motor plant, its light armor and its rudimentary fire control system soon seemed insufficient in the fierce Human Sphere arms race. However, even with all its defects, Geckos had a virtue highly regarded by Corregidor's military: they were comparatively very cheap. The Jurisdictional Command of Corregidor also came to value the simplicity of its design, which makes maintenance tasks easier, as well as its small size, which makes it ideal for naval operations and moving inside the narrow corridors of spaceships and orbitals, the most common operating environments for this Nomad force.
Kunden, die diesen Artikel gekauft haben, kauften auch folgendes: