Warpaints Complete Paint Set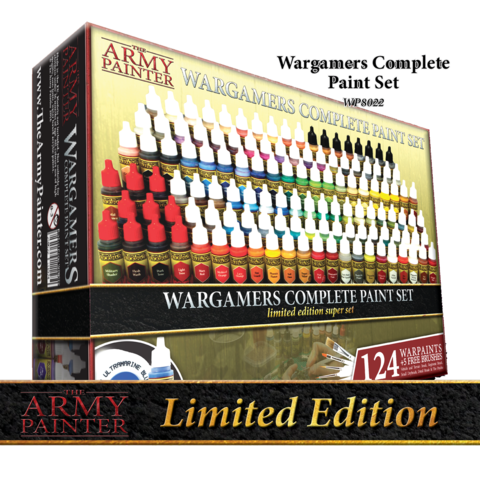 | | |
| --- | --- |
| Name | Warpaints Complete Paint Set |
| Artikelnummer | TAPWP8022 |
| EAN / ISBN | 5713799802209 |
| Mehrwertsteuersatz | 19% |
| Sprache | englisch |
| Erscheinungstermin | September 2018 |
| Erstverkaufstag | |
NEW limited edition Warpaints Complete Paint Set 2018 – includes all 124 Warpaints.
The Complete Wargamers Paint Set includes every colour from The Army Painters new fantastic range. As a serious wargamer and painter you will get EVERYTHING in this box you will ever need in order to paint any type of army, no-matter the size of the miniature or genre. The Warpaints are creamy and highly pigmented with astonishing blending capabilities, the washes cover perfect and the metallics are the absolutely best in the industry. There are also 9 Effect Paints for anything from Glistening Blood to Wet Mud, Dry Rust or for example Disgusting Slime! Furthermore – you will find gloss and matt varnishes as well as both Wash Medium and Warpaints Medium for thinning and blending colours to perfection.
This set offers massive saving and even includes our 5 most popular Wargamer brushes absolutely free.
Note: limited edition – only available for order in October
Includes:
· 124 Warpaints; 96 Acrylic Warpaints, 8 Metallic Warpaints, 11 Quickshade Washes and 9 Effects Warpaints,
· 5 Wargamer Brushes
· 1 The Army Painter Painting Guide
Kunden, die diesen Artikel gekauft haben, kauften auch folgendes: