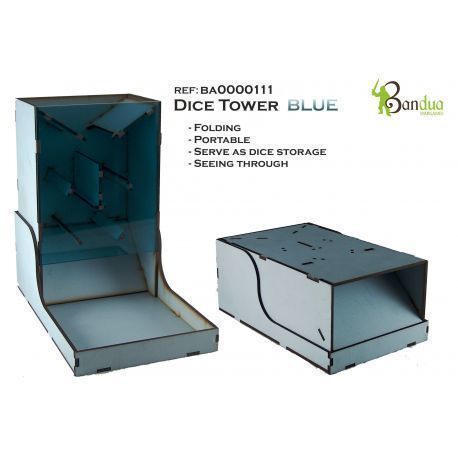 | | |
| --- | --- |
| Name | Dice Tower Blue |
| Artikelnummer | BA0000111 |
| EAN / ISBN | (keine EAN/ISBN) |
| Mehrwertsteuersatz | 19% |
| Sprache | deutsch |
| Erscheinungstermin | Juni 2016 |
| Erstverkaufstag | |
Bandua Tower Dice are a new way to see this very common element on our game tables. With a new design to make its transport and storage a lot more easy, and at the same time it can be used to storage your dice when you don't use them, or carry on your dice on a safe place.
Created on high quality prepainted MDF, they are presented on different combinations of color, with an acrylate frontal wall, with which you can see the fall of your dice, creating a nice and hypnotic effect.
Wargame and tabletop players always see their dice falling rolling over the table, and they can enjoy now a nice and tidy space.
Kunden, die diesen Artikel gekauft haben, kauften auch folgendes: